City & Culture
Auckland city has so much to offer. From the inner city with the waterfront, Wynyard Quarter and Viaduct Harbour. To trendy Ponsonby Road, only a leisurely 5 minute walk away, where you will find some of Auckland's and New Zealand's finest Cafes, Bars and Restaurants. Some of the best Boutique shopping can also be found on Ponsonby Road or alternatively Parnell, a short drive or bus trip away. For the more adventurous the West coast of Auckland is worth a trip where you will find Piha beach (famous for it's black sand beaches and wild surf) to the beautiful Waitakere ranges and KareKare beach where the Piano was filmed. Our vibrant and diverse community offers delicious cuisine from around the world. Many galleries including the Auckland Art Gallery, the wonderful Auckland War Memorial Museum. Visit Waiheke Island, a relaxing 30 minute ferry ride away with some of the best vineyards in New Zealand, Other islands in the Gulf such as Tiri Tiri Matangi if you enjoy nature or bird watching and many other spots that are off the beaten path. If this is your first time in Auckland we invite you to stay at Franklin 38 for your Luxury Boutique Bed and Breakfast Accommodation.
dining and Cafes
Ponsonby is one of Auckland's best and busiest dining spots. Choose from a huge array of options from five-star restaurants such as (Sidart) or street food at the uber-cool Ponsonby Central. Known for its coffee culture try a flat white or a latte at an array of quirky and modern cafes. With many bars and restaurants to choose from and only a 5 minute walk from Franklin 38.
Shopping
Ponsonby is one of Auckland's hippest strips. Packed with boutique fashion stores such as Karen Walker, Juliet Hogan, World and many more. Find unique designer fashion, upmarket home-wares, boutique jewellery stores. Browse the independent books such as the Women's Bookshop, and visit the famous Dorothy Butler Children's Bookshop.
Check out local arts such as the Poi Room for local established and emerging artists, authentic Maori taonga (treaures),premium gift-ware and many other unique products on offer.
World class bars
Fancy a relaxing wine or beer? Well you have come to the right place. A quick walk up famous Franklin Rd will lead you to the coolest bars around. Try the Chappel Bar on a sunny afternoon, Annabel's at Three Lamps for a more intimate vibe, SPQR in the heart of the strip, or Bedford's at Ponsonby Central.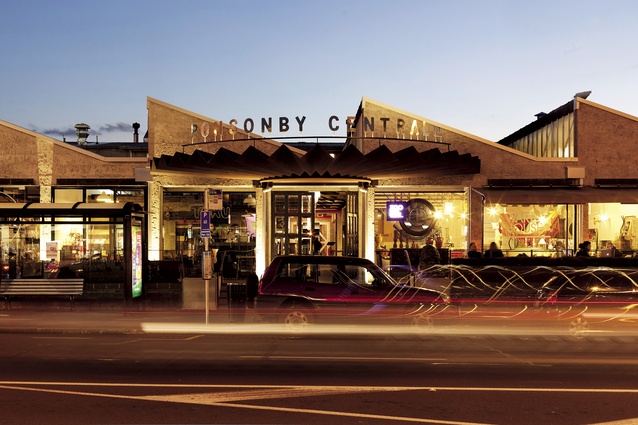 Ponsonby Central. Shopping & Dining
Your hosts can provide dining reccommendations and make bookings on your behalf
Great dining on the Ponsonby strip
Mekong Baby. Bar & restaurant